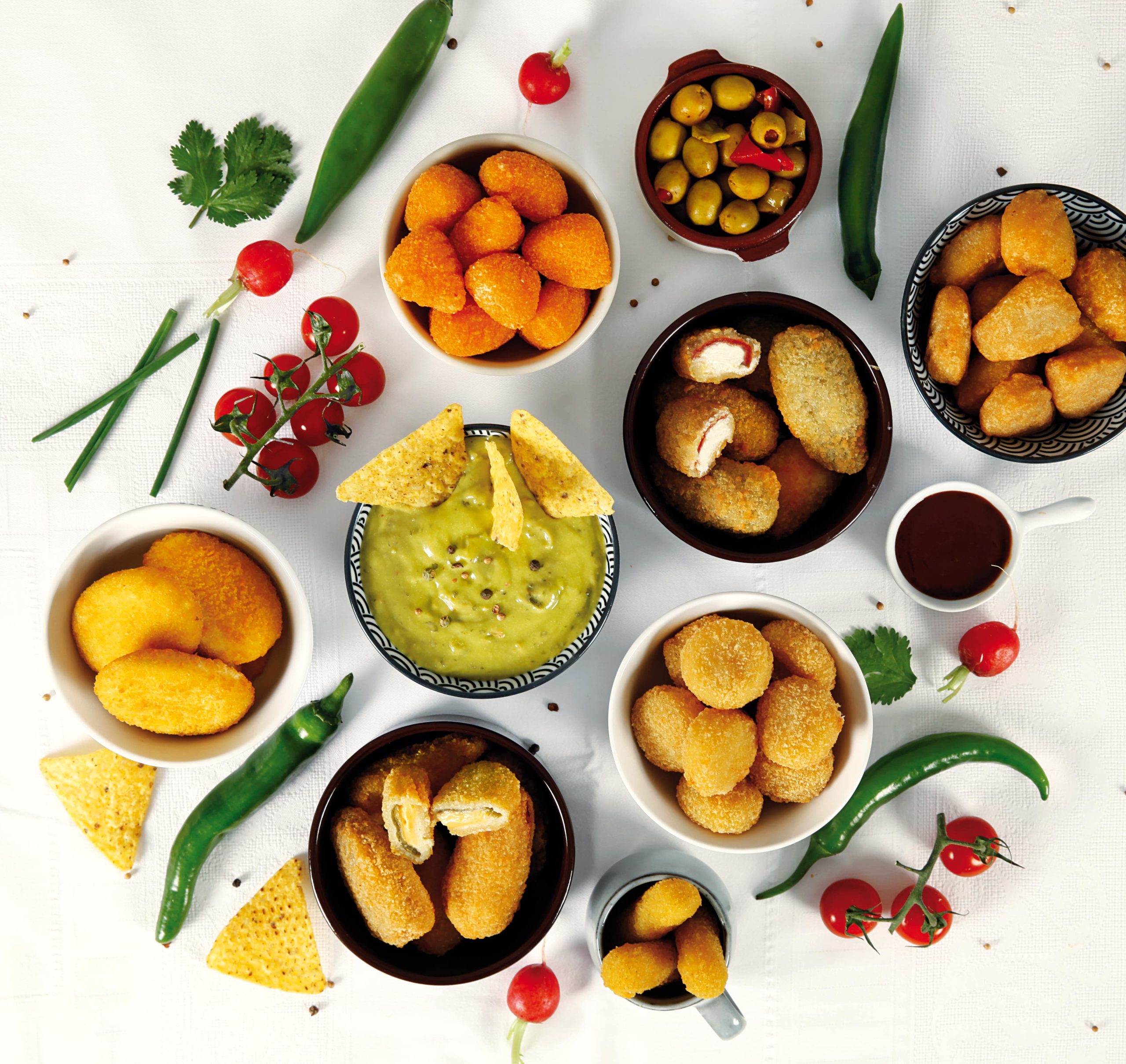 Need to renew your snacking offer?
Cheese is the key ingredient of any self-respecting snack.
Think outside the box and innovate your menus by offering products that will delight your customers. The Be Snacking range responds perfectly to the new food consumption trends and will seduce them!
The Be Snacking range: what counts is to make you crack!
Be Snacking boosts your snacking offer and transforms the meal break into a moment of pleasure! Discover our authentic, gourmet and ultra-crispy recipes for tasty moments, full of conviviality.
Gourmets of all kinds have varied requirements: Be Snacking offers you flexible and alternative solutions to satisfy each of your customers!
A varied selection of recipes based on gourmet cheeses, authentic flavours revisited to satisfy all tastes. A complete range to satisfy your customers in search of food diversity.
Same method of restitution, no disorganisation in the kitchen. For optimum quality, we recommend that you use the deep fryer for restitution: crispy breadcrumbs and a melting centre guaranteed on all the products in our range!
Discover the range!
The trend on your menus
New generation, new taste pleasures
We are pleased to see our Be Snacking range growing. Enjoy the newcomers: the Chili Cheese Nuggets and the Mac & Cheese. These spicy bites will literally make you fall in love!
Mac & Cheese: American Style at your fingertips
Recruit more customers with this delicious new alternative!
Famous throughout the world, Mac & Cheese is a real institution in the United States. It's America's favourite dish.
Be snacking continues its globetrotting journey and popularises this famous dish in a finger food version for a surprising taste in the mouth.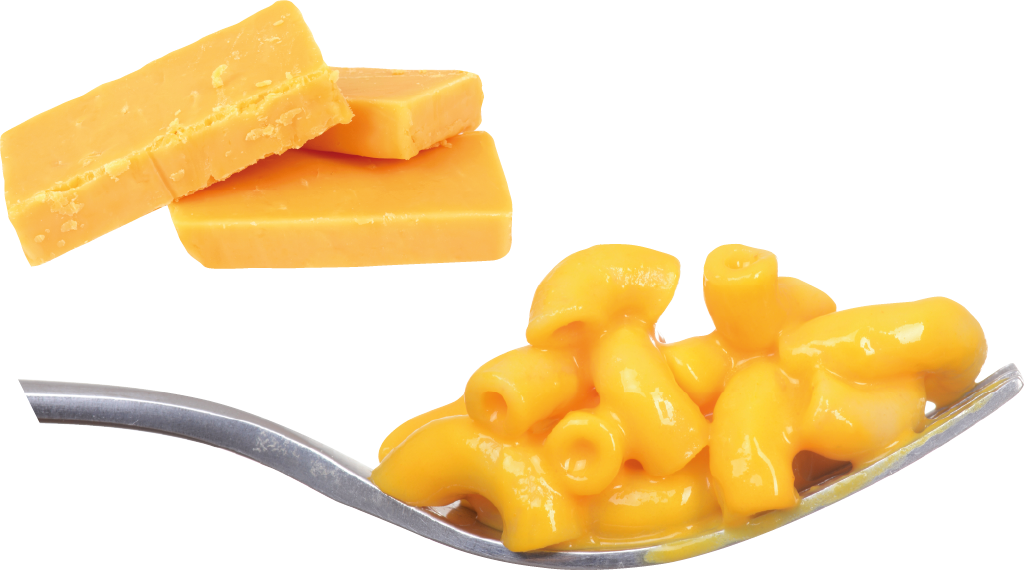 The meeting of an al dente macaroni and an authentic melting cheddar cheese.
A homemade touch with a gourmet texture, lightly spiced and covered with a crunchy breading.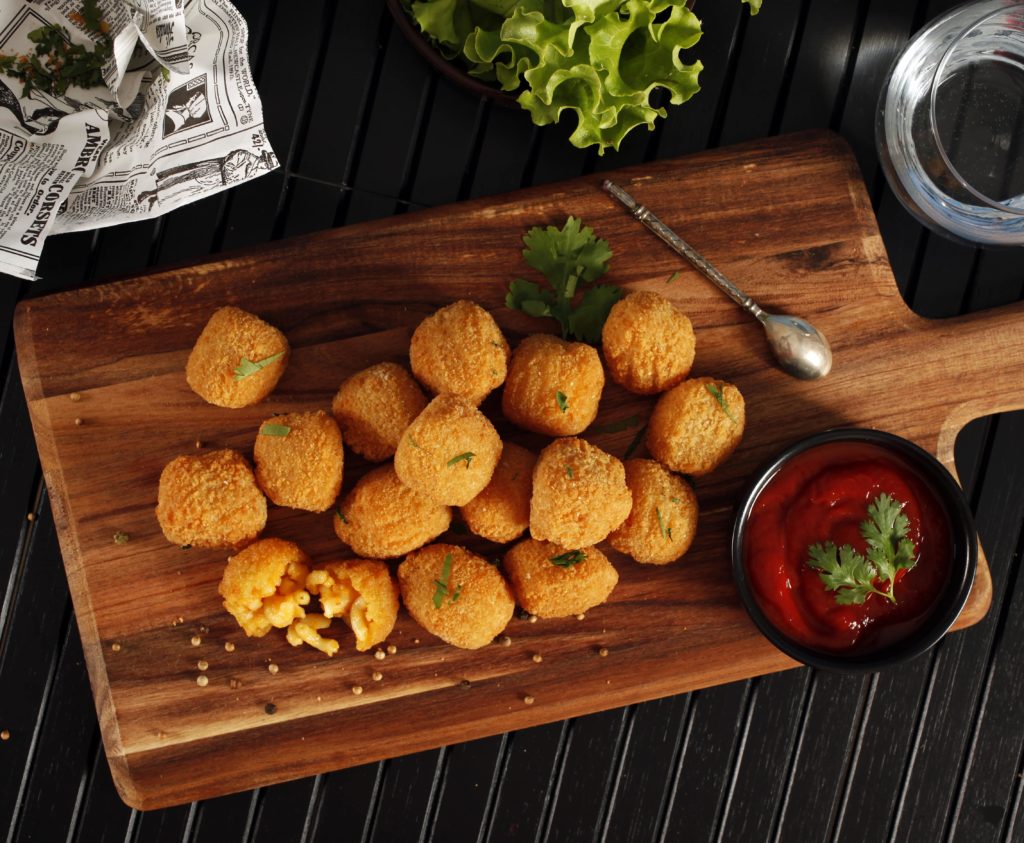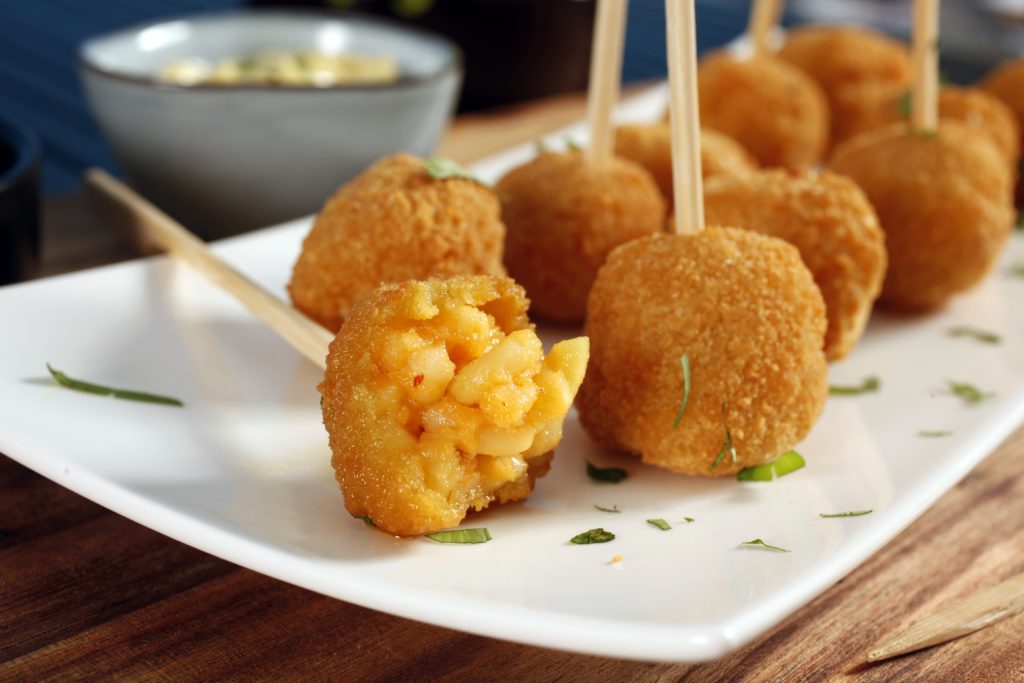 This original signature can be enjoyed on a plate, on a board, in a cone or as tapas.
An American Way of Life concept soon available!
Product code: 11077-ES
Packaging: 500g bag
Freezing: IQF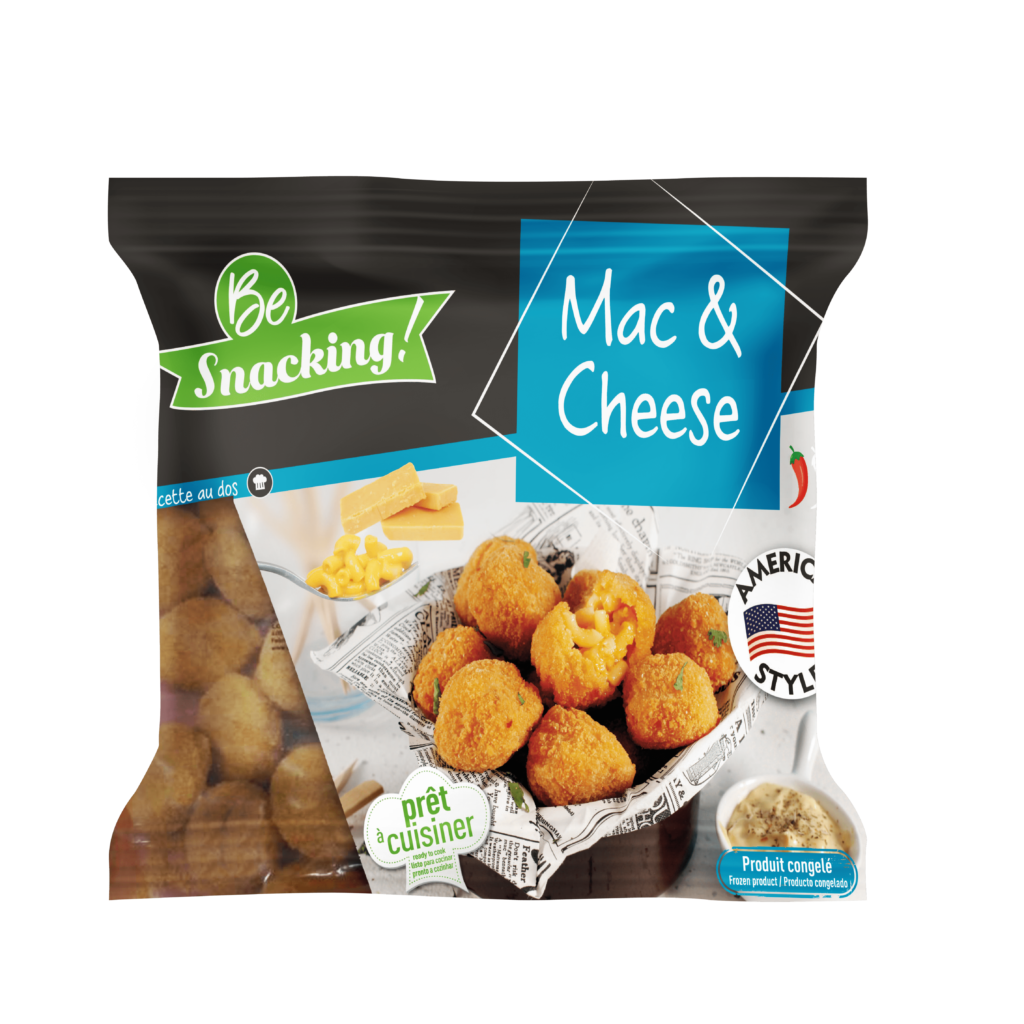 Chili cheese Nuggets
: discover our new great idea!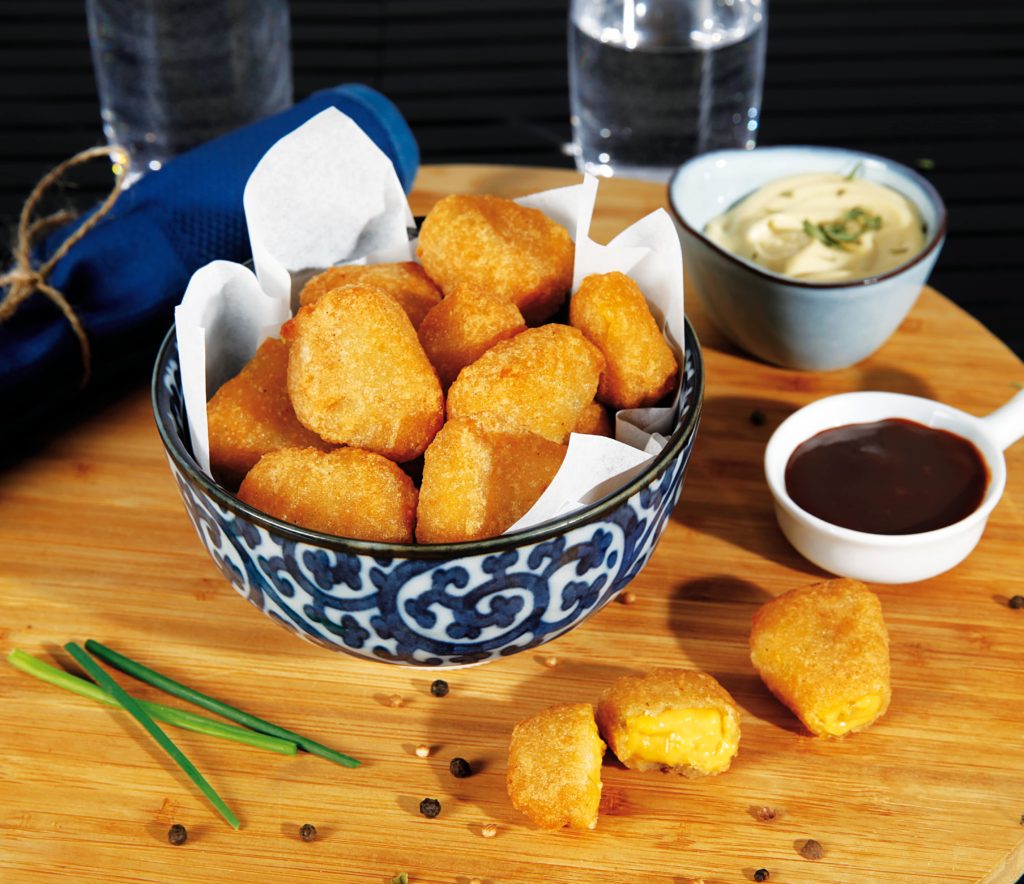 This melt-in-your-mouth nugget is generously topped with a creamy, authentic cheddar cheese with incredible green chilli flakes.
With a greedy texture and a spicy taste, this trendy veggie and cheese alternative is coated with a crunchy breading for crunchy pleasure!
A perfect bite for snacking and tapas!
Product code: 11076-ES
Packaging: 750g bag
Freezing: IQF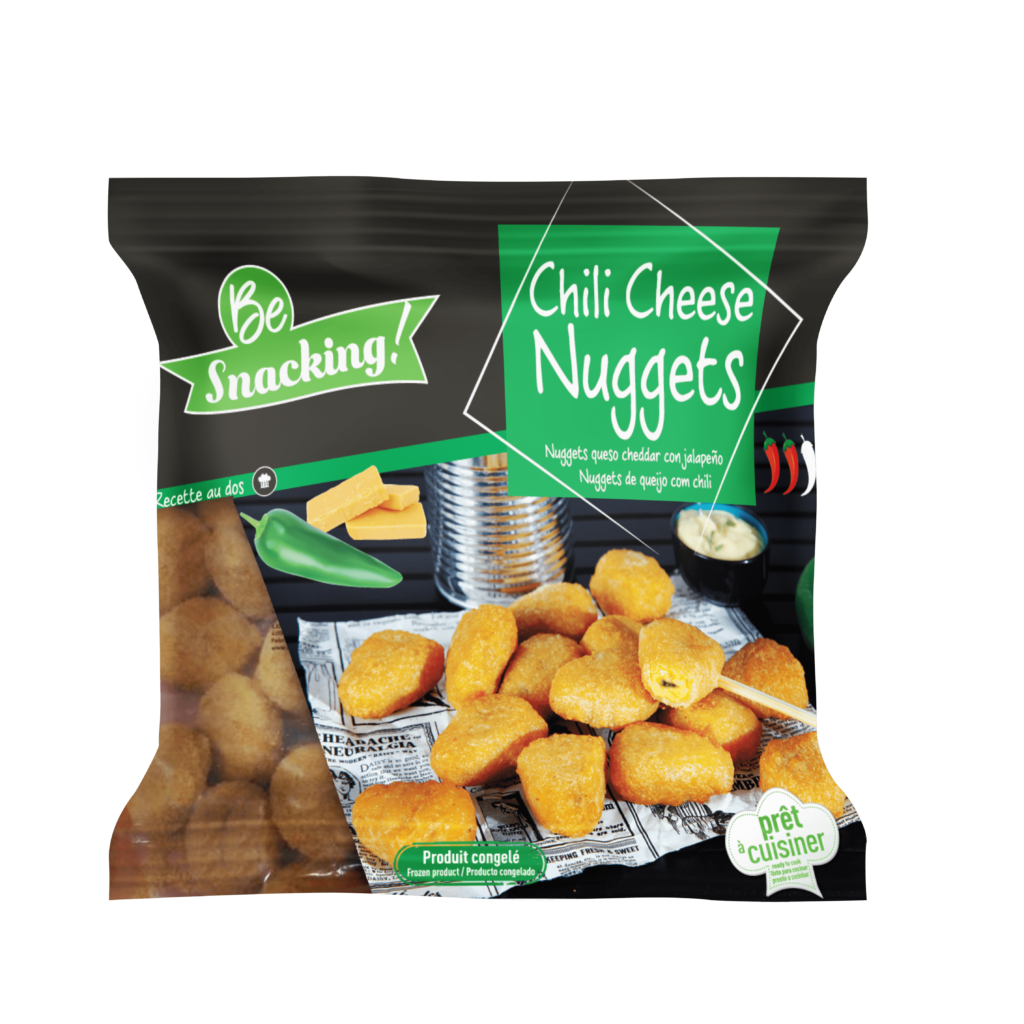 Finger mozzarella
: a snacking classic
These sticks, made of real mozzarella coated with a golden breading, offer a familiar, soft and delicate taste, appreciated all over the world. Its mozzarella with its incomparable elasticity is a real gain in quality.
Soft and crunchy sticks: an appetizing sure thing that will fit perfectly in your starters, salads or on your sharing boards.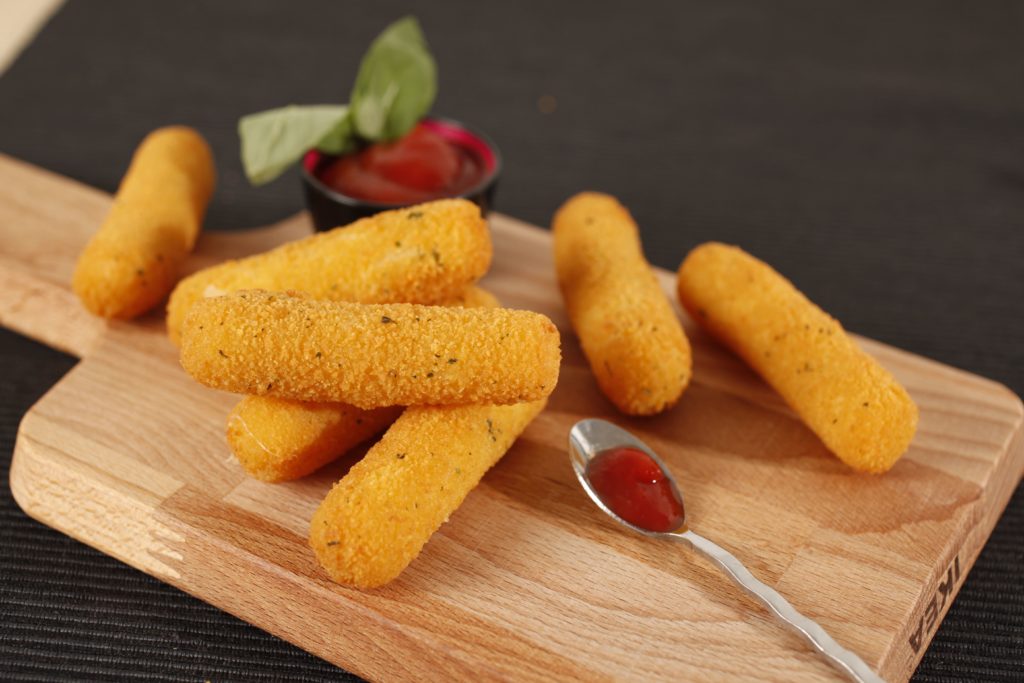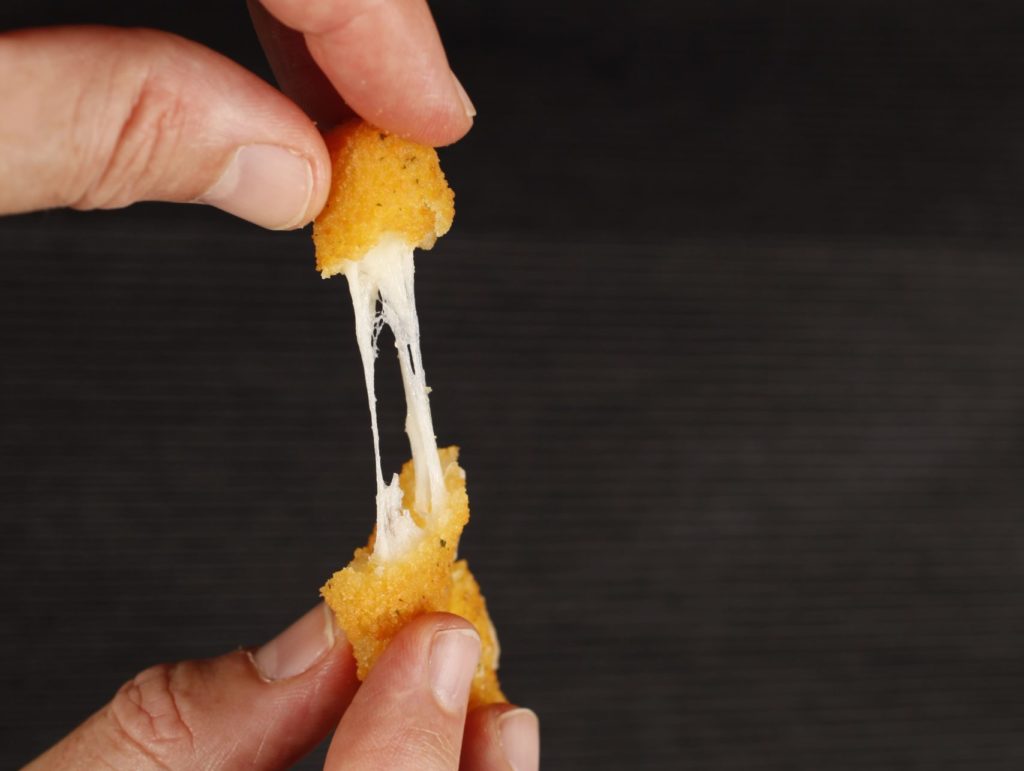 This snacking classic is a must-have. It is definitely the one that will satisfy the greatest number of people!
Product code: 11014-ES
Packaging: 1 Kg bag
Freezing: IQF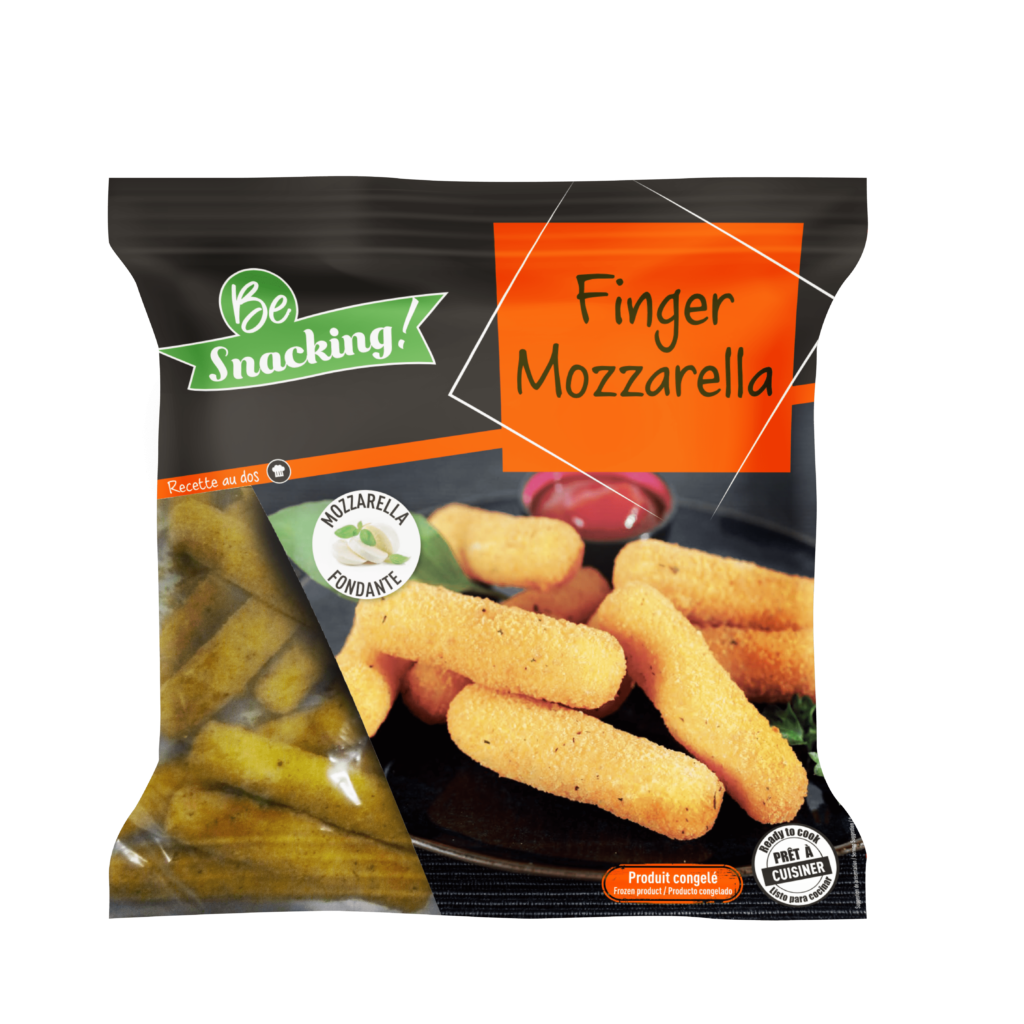 Mini camembert
: the French touch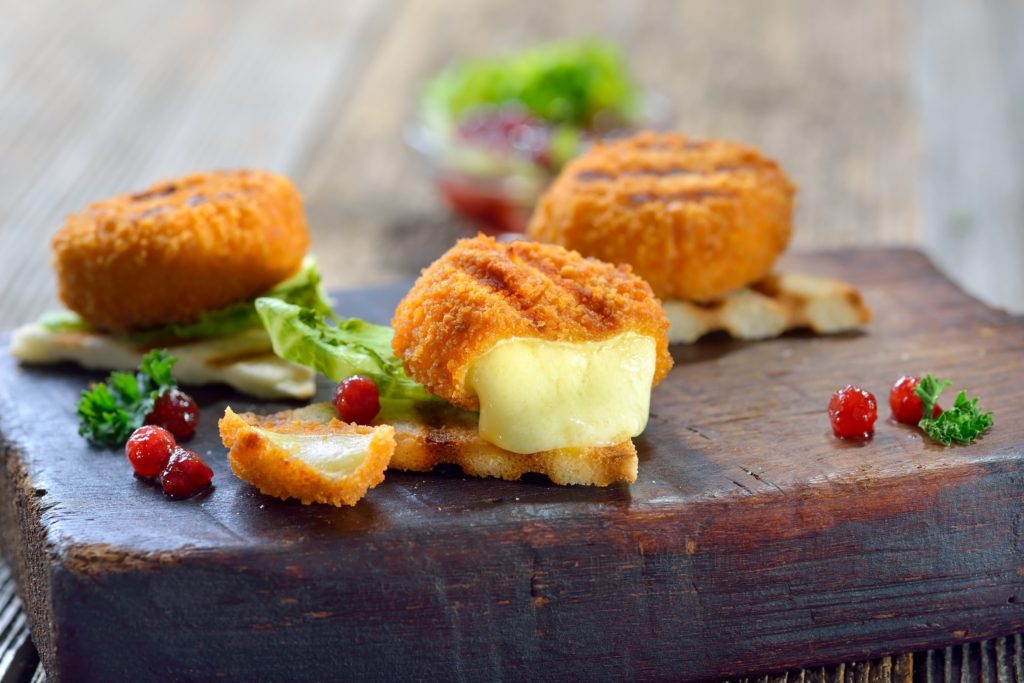 A trendy product, it is ideal on an appetizer board.
Product code: 11074-ES
Packaging: 750g bag
Freezing: IQF
Famous French cheese icon, Camembert is a monument of French gastronomy.
As the most popular cheese in France, Be Snacking had to create a tasty snack with a home-made taste.
A generous heart of cheese and a crunchy and qualitative breading for a greedy and differentiating result. Its creaminess and its good taste of melted Camembert make it a snack of choice on your menus.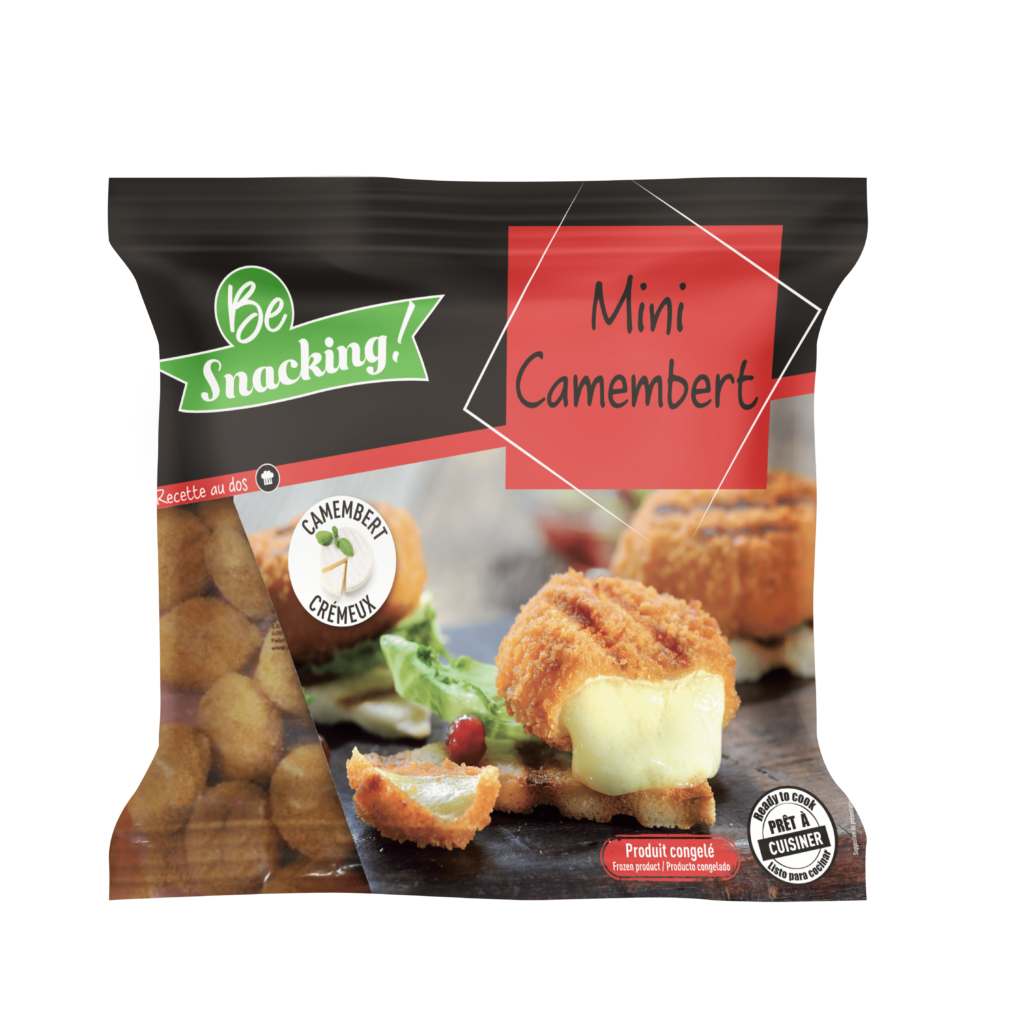 Mini brie

: all the know-how of our regions
Brie is one of the oldest French cheeses and a staple on French tables.
We pay tribute to it with a trendy snacking product. Find all the creaminess and taste of Brie cheese in golden bites with a generous centre and an incomparable crispy breading.
This must-have product combines the know-how of our regions with current snacking trends to appeal to young and old alike.
Product code: 11089-ES
Packaging: 1 Kg bag
Freezing: IQF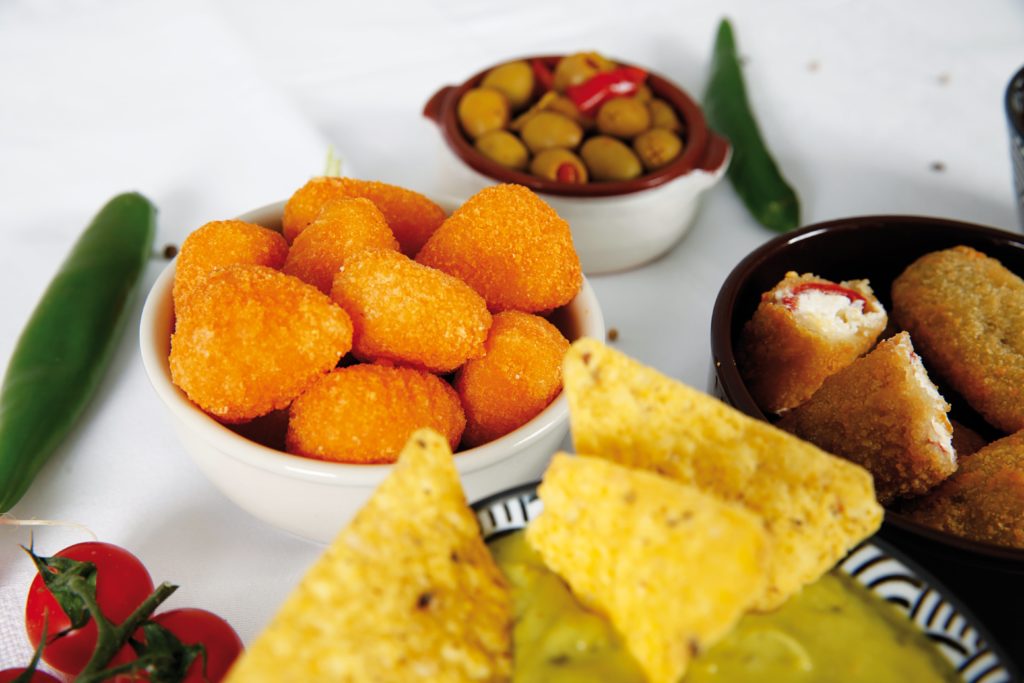 The
goat's cheese medallion

: a must have snack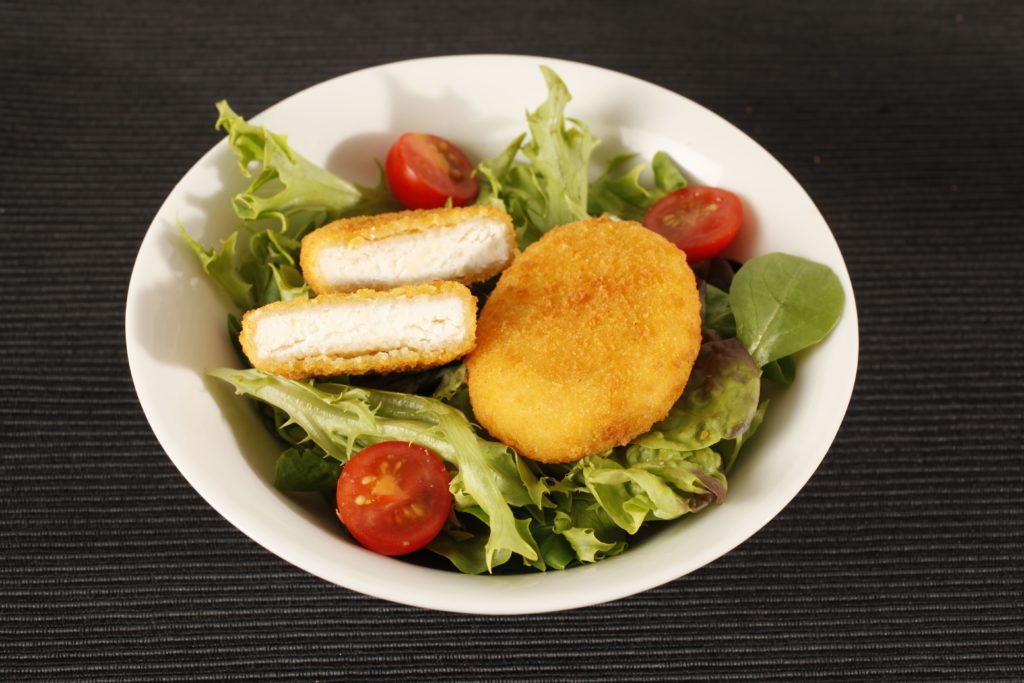 An original alternative to hot goat's cheese, these golden, calibrated portion are made up of a generous heart of fresh, melting goat's cheese and a crunchy breading for a gourmet and comforting result.
Processed in France with the greatest care, these breaded goat medallions combine tradition, technology and French know-how for an exceptional taste!
They can be used in a wide variety of ways: as an aperitif, as a starter, in a salad or in a wrap…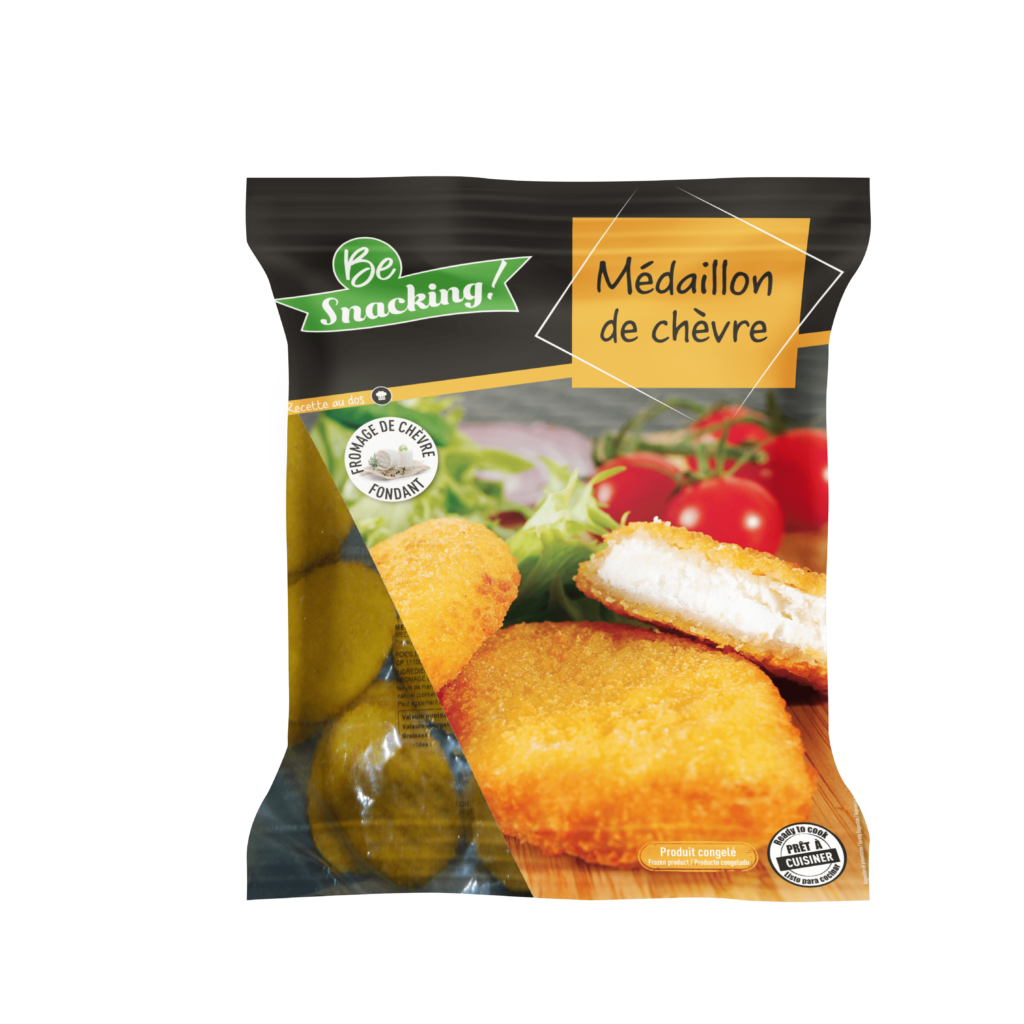 Product code: 11101-EN
Packaging: 800g bag
Freezing: IQF
Breaded Jalapeños

: caliente Mexican recipes!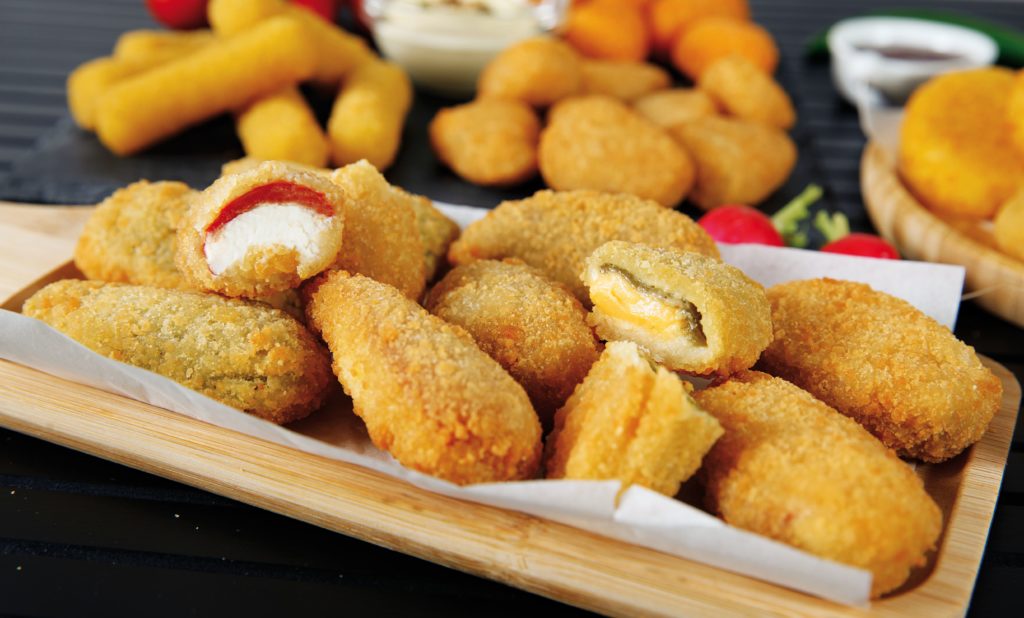 Originally from Mexico, jalapeños are large, slightly hot green or red peppers. We have developed two tasty recipes for breaded snacks that combine jalapeño and cheese for a spicy and delicious taste:
Breaded

green Jalapeño
A green jalapeño chilli loaded with melted cheddar cheese and coated in a light, crispy breading.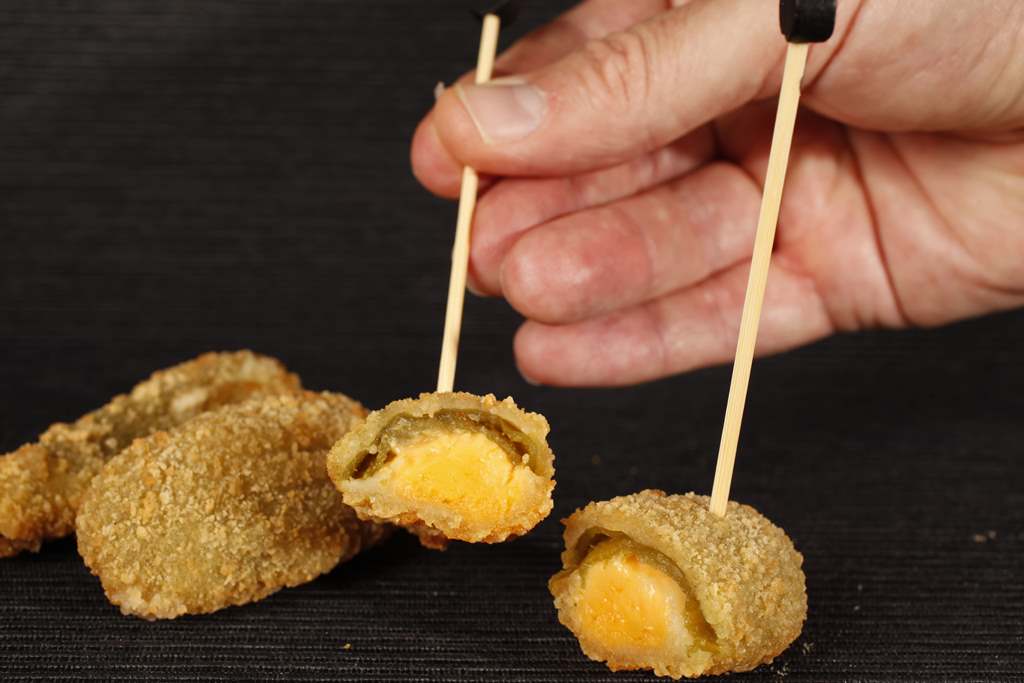 Product code: 11069-ES
Packaging: 750g bag
Freezing: IQF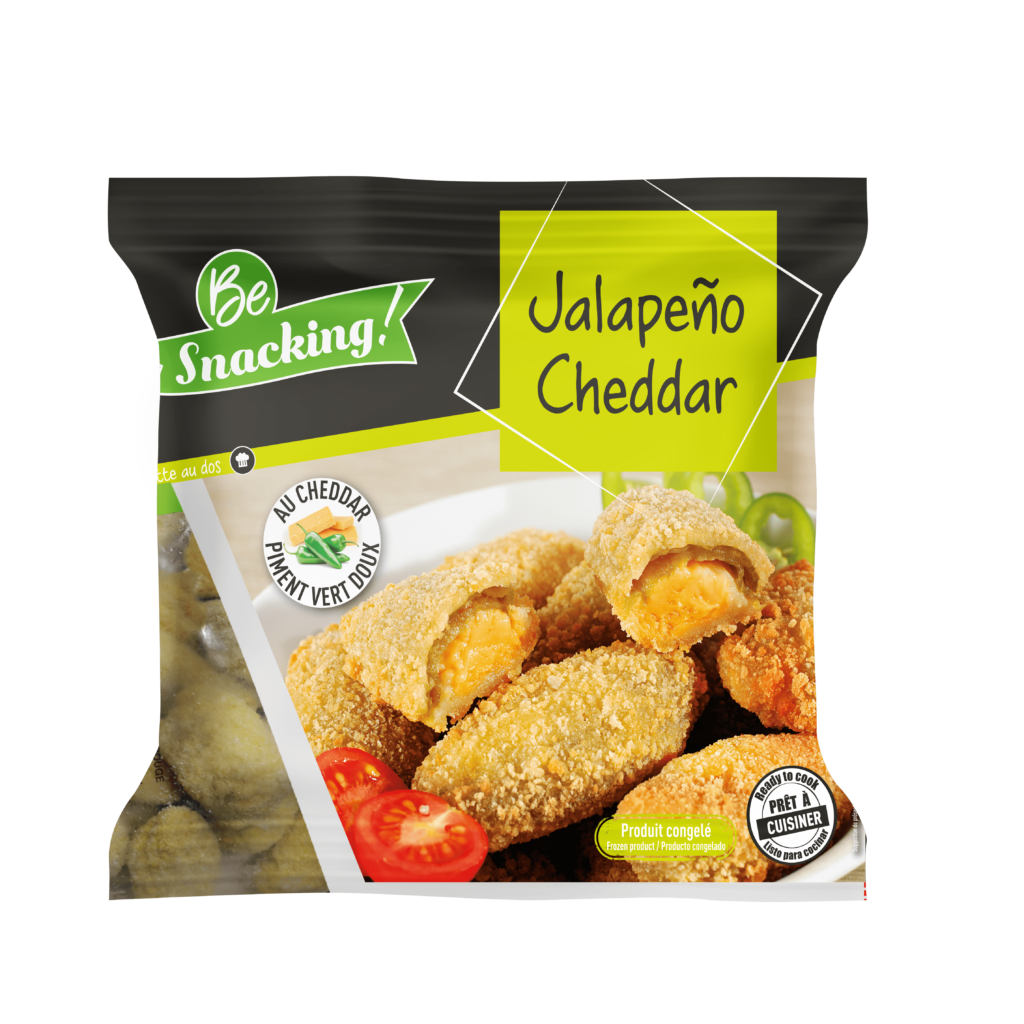 Breaded

red Jalapeño
A red jalapeño pepper topped with a tasty and mild cream cheese, covered with a thin, crispy breading.
Product code: 11072-ES
Packaging: 1 Kg bag
Freezing: IQF
Lightly spiced, these golden bites will transport your menu to the heat of the tropics.
So, have you made your choice?